Introduction to Eco-Business Park (EBP)
The 26.6 ha Eco-Business Park (EBP) mainly attracts industry clusters of electronics and infocomm, biomedical sciences and green industries, creating a core area of green industries in Northern China.
EBP, which is strategically located in the core area of the Start-up Area of the Eco-City, is adjacent to schools, a hospital, neighbourhood centres and other amenities, enjoying the convenience of shuttle buses and the rail transit that will be built in 2020.
The Eco-City is both a pilot zone for direct settlement and cross border RMB settlement. Therefore, the companies registered in the Eco-City would not only enjoy the national incentive policies, but could also carry out cross-border financing in Singapore.
EBP has The Landmark, The Enterprise, Ready-Built Offices and the Low Carbon Living Lab that all comply with the Green Building Evaluation Standards. Comprehensive and multi-functional amenities that are available for tenants in EBP include conference services centre, public service cloud platforms and corporate networking. It offers shuttle bus services to provide convenience for staff working in EBP. There is also a canteen, cafe, gym and other commercial facilities to make working, living and playing in EBP possible. The Central Green immerses the working environment with greenery, making EBP an ideal office space for companies.
The Landmark
The Landmark is the tallest building in the start-up area of the Eco-City and houses SSTEC. At present, there are many tenants in EBP such as China Shenhua Track Mechanical Maintenance Company, Jecho (Tianjin) Biology Medicine Research & Development Co. Ltd and Guoliang Agricultural (Tianjin) Co. Ltd.
The 19-storey building has a Gross Floor Area (GFA) of 65,448 sqm with a tower block that has a floor area of 30,706 sqm and a podium block that has a floor area of 17,852 sqm.
Specifications:
A 19-storey tower building with a total space of 1,585 sqm for each level;
A 7-storey podium building with GFA of 2,355 sqm for each level;
The GFA of each lease unit: 130-2,355 sqm.
Functions:
Flexible segmentation of area, considering the size and characteristics of small and medium-sized enterprises;
Vast space with high ceiling height to meet the needs of scientific research and industrial office clients;
the well-furnished public area ensures tenants' comfort.


Layout of the Landmark
The Enterprise
The Enterprise is a specialised facility for R&D companies to carry out their business, research and development and other day-to-day work. It creates an ideal vibrant work environment that fosters research and innovation.

The Enterprise is a 13-storey building with a Gross Floor Area of 30,066 sqm, comprising a tower block that has a floor area of 20,007 sqm and a podium block that has a floor area of 10,069 sqm. The space on the 1st to 3rd floors in the podium block is specially designed for laboratory use.

Specification: A 13-storey tower building with GFA of 1,648 sqm for each level; A five-storey podium building with GFA of 2,000 sqm to 2,300 sqm for each level.
Ready-Built Offices
The Rready-Built Offices are 8-storey building with a total space of 83,256 sqm. It provides the convenience and flexibilities service to the tenants with the greening, canteen, gym and cafeterias. Ready-Built Offices aims to create an inspiring working environment conducive for research and knowledge-intensive activities.
Specification: 8 blocks of 4 to 5 –storey building. The GFA of every level is 1,100-2,000 sqm. 200-2,000 sqm leasing ares are available.
Layout of the Ready-Built Offices
Low Carbon Living Lab (LCLL)
Low Carbon Living Lab (LCLL) is a high-quality green office building with elements of Singapore jointly developed by SSTEC, the Building and Construction Authority (BCA) of Singapore and International Enterprise Singapore. The LCLL is a 5-storey building with a Gross Floor Area of 9,899 sqm. It is the first BCA Green Mark Platinum building in China and in the temperate zone, and has also received the 3-Star Award for China's Green Building Design and Operation Label.

His Excellency Dr Tony Tan Keng Yam, then-President of the Republic of Singapore, visited and opened LCLL on 1 July, 2015.

Specification: The GFA of the 1st floor is 1,773 sqm; the GFA of the 2nd floor is 1,781 sqm; the GFA of the 3rd to the 5th floor is 2,085 sqm;
Layout of LCLL
Besides the leasing RBO and offices, there is industrial land are available to transact. Click the following images to get detailed land information.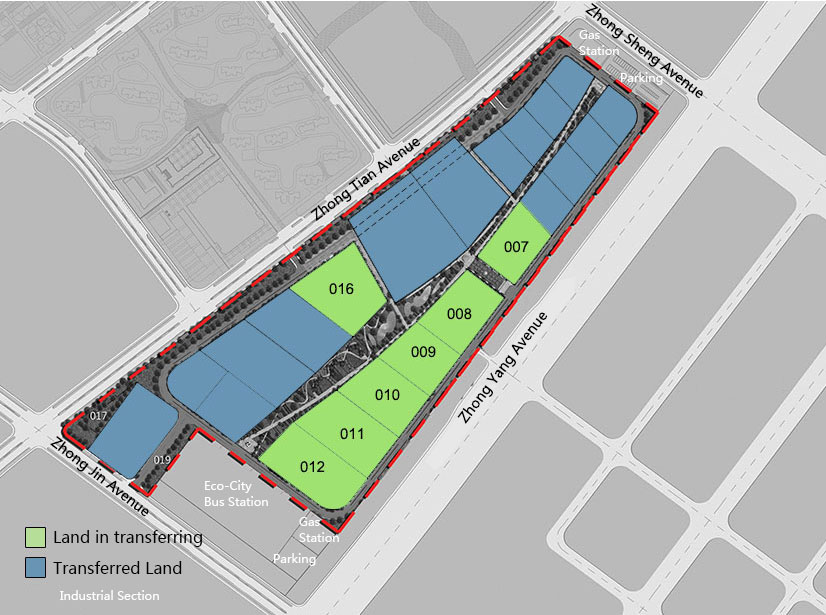 A work environment surrounded by nature stimulates creativity. Amenities such as a conference services centre, a public service cloud platform and corporate networking exhibition area provide comprehensive services for companies; The Central Green creates a green working environment. A canteen, cafe, gym and convenience store are also available for the companies.
Introduction to Eco-Innovation Park (EIP)
The EIP is located in the north of the Eco-City and covers a planned area of 175 ha, with both ready-built facilities and land plots for eco-industrial players to establish their Northern China industrial bases. Built in compliance with green building evaluation standards, this green industrial park will feature eco technologies such as energy-efficient building materials, solar technologies and rainwater harvesting. This will allow business owners to enjoy direct savings.
EIP has an excellent location near the Tianjin port, Tianjin airport and the highway leading to Beijing. Companies can use EIP as a business development platform to form innovative services business cooperation models with surrounding companies and service agents, gathering a large number of professional and technical personnel in the field of ecological environment to meet the needs of North China and Tianjin Binhai New Area.
Ready-Built Factory (RBF)
The RBFs provide a convenient plug-and-play solution for the companies that seek rapid development. All the RBFs are built to be energy-saving, water-saving and electricity-saving, reflecting their customisability and flexibility.
Layout of the Ready-Built Factory